About TerraTrek and the TerraTrek Team
In 1994, a second generation islander named Johannes founded Crystal Seas Inc. at the young age of 19 and began offering premier kayak tours in the San Juan Islands. In 2000, after requests from guests and our passionate team of outdoor enthusiasts, Crystal Seas Kayaking / Crystal Seas Inc. established the TerraTrek brand to offer bicycle and multi-sport vacations in the San Juan Islands with a "locals perspective". In 2008, we expanded our island family with San Juan Excursions Whale Watch/Wildlife Cruises; to create the perfect blend of activities on land and at sea. On all of our TerraTrek Vacations a kayak tour or whale watch cruise is included at no additional charge. (Please check out our many fantastic reviews online which can be found under our parent company Crystal Seas / Crystal Seas Kayaking).
We feel that our staff greatly reflects on our company and simply spoken, our staff is fantastic. We know what we do inside and out and it shows; from the exquisite meals that we prepare throughout our TerraTrek camping expeditions to accommodating a TerraTrek Inn guest whose travel plans have gone awry.
Our staff consists of friendly outdoor enthusiasts, each one bringing a unique flavor to the team. Many of our employees are college graduates with majors in the sciences, outdoor education and tourism. Of course, they all share a passion for recreation and travel. We seek out only the best, most qualified individuals who display the same leadership, integrity and enthusiasm upon which our company was founded. Many of our guides return year after year and we see this as a reflection of our wonderful team, tours and company. We feel it is important to hire local staff and to give back to the community through donations, supporting our schools and sports programs, supporting wildlife programs, local farmers and just helping out folks in need. The TerraTrek staff is a big family who love to work hard and play hard. Our guides are the heartbeat of TerraTrek and we could not have a better team of committed and enthusiastic people.
Johannes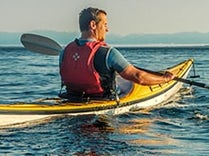 Founder/Owner - Johannes grew up on San Juan Island and has been bicycling the San Juan Islands since he was five years old. In 2000, he and Angie (wife) started TerraTrek Bicycle Vacations to offer guests a first class bicycle vacation with a "locals perspective" of the San Juan Islands. Today, you can find Johannes on the phone planning vacations with our guests and making sure every trip meets the highest quality imaginable. Mail keeps pouring into the office addressed to Johannes, reminding us of how 'top rate' TerraTrek has become. Johannes is active in our community; serving on the San Juan Island Parks Commission, and served many years on the San Juan County Marine Resources Committee and coached high school boys soccer and high school girls volleyball teams. He is also active with the San Juan Island Kayak Association and the Pacific Whale Watch Operators Association. Johannes enjoys cycling, swimming, kayaking, snow boarding, and kite boarding.
Angie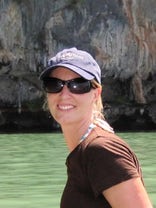 Office Manager - Angie grew up in the San Juan Islands and has cycled nearly every road on San Juan Island. She loves living here because of all the wildlife she gets to see just on a simple bicycle ride to town. Angie is the person who plans your vacation details once you are booked and makes sure the guides are prepared for your group. It is important to her that guests experience the best of everything; food, accommodations, routes, gear, and awesome guides. She loves to explore new places and enjoys bicycle adventures wherever she can. She is happiest though when volunteering for a community cause or working to preserve wild animals and their land. Besides raising awareness for local wildlife preservation, she has volunteered with her husband in Mexico (sea turtle preservation), South Africa (wildlife and land preservation), and Thailand (elephant preservation). She is the friendly face at our Office/T-Shirt Shop in Friday Harbor. She'll help you choose which tour is best for you through e-mail and phone calls and give you advice for your vacation.