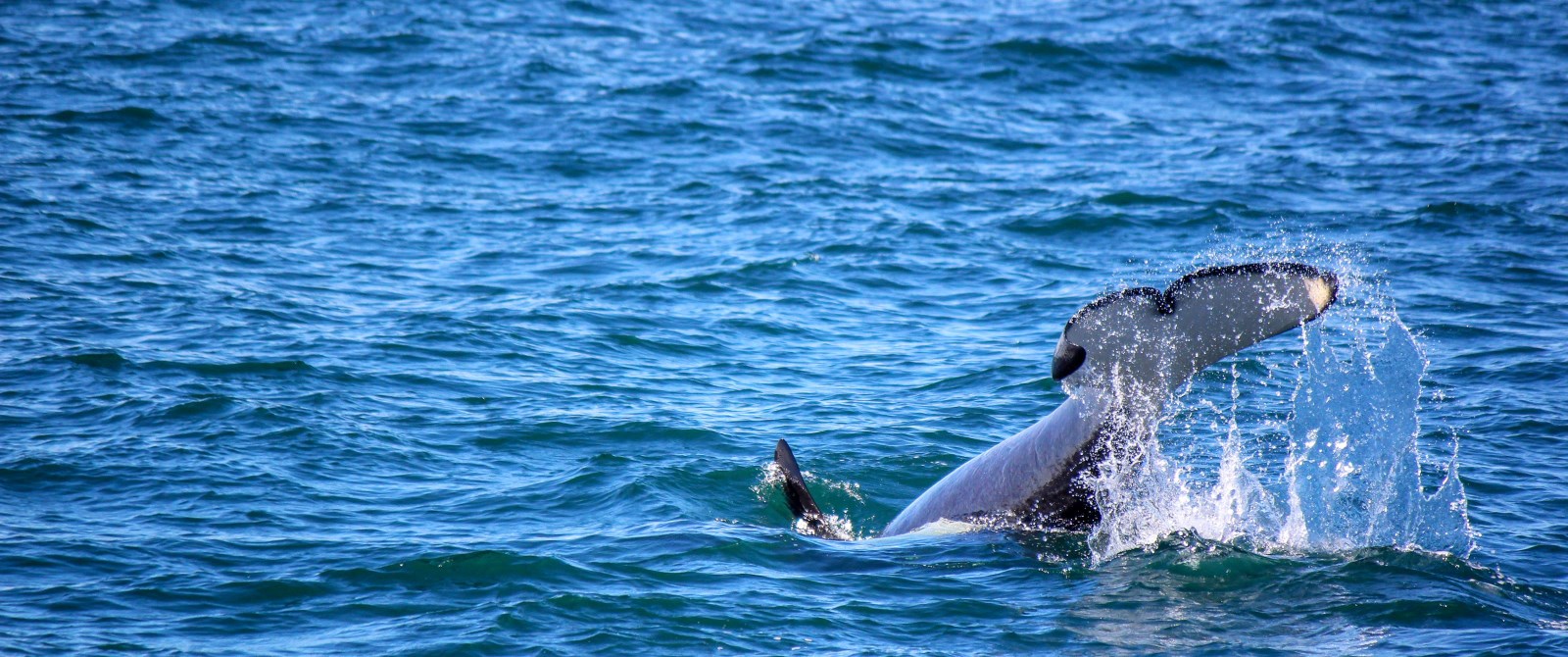 BIKING "CAMP TO CAMP"
through the
SAN JUAN ISLANDS
4-DAY/3-NIGHT TOUR - MONDAY START
$1099 ‐ All Inclusive
What's Included:
Campsites, Tents, Sleeping Pads, Camp Pillows
Biking Gear & Kayaking Gear
Campsite Breakfasts, Picnic Lunches and Campsite Dinners
Every Monday-Thursday from April-October
Custom tour dates available upon request.
View Available Dates
Book Now
CAMP TO CAMP TOUR HIGHLIGHTS
Pacific Northwest Camping Experience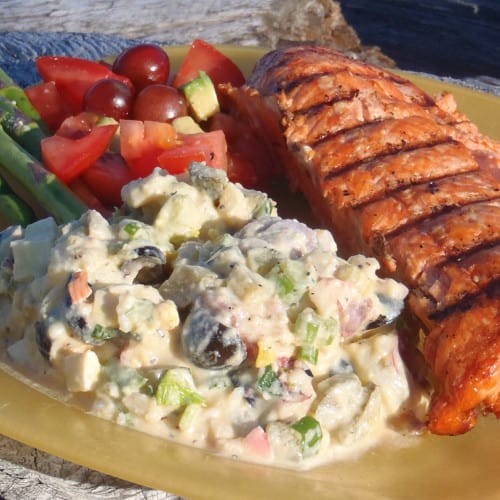 Included: Fantastic Meals (Breakfasts, Lunches, Dinners & Snacks)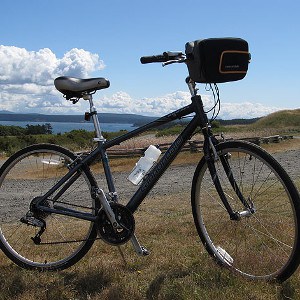 Included: Comfortable Hybrid Cannondale Touring Bicycles (road bikes & electric bikes also available)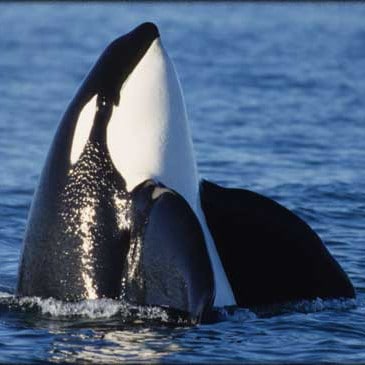 Amazing Views and Wildlife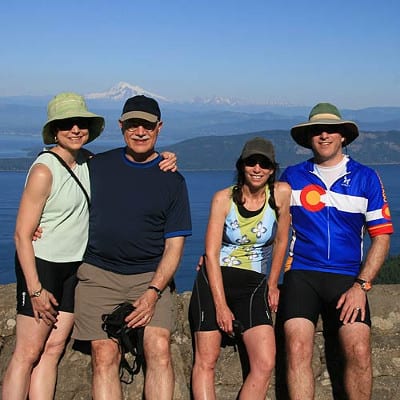 Small Group Sizes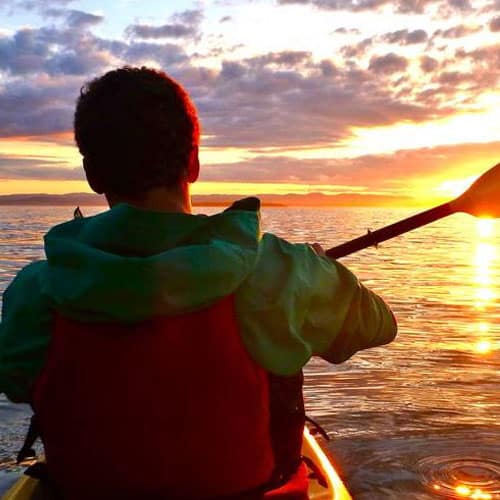 Included: Spend a Day Kayaking or Take a Whale Watching Wildlife Cruise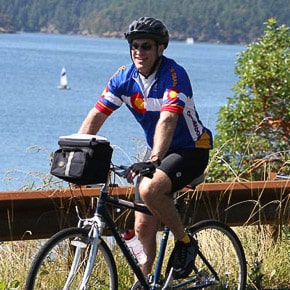 Beautiful Country Cycling Routes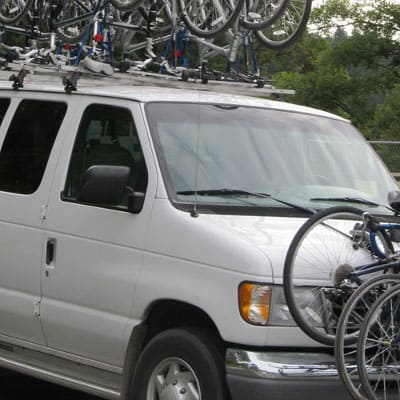 Fully Van Supported
4 Day Camp to Camp Tour - $ 1,099 per person

Activity
Mileage
Accommodations
Day 1
Cycle San Juan Island South End
25.5 miles
LakeDale Campground
Day 2
Cycle San Juan Valley
29.5 miles
Lakedale Campground
Day 3
Kayak San Juan Island or Whale Watch Cruise from San Juan Island
Lakedale Campground
Day 4
Cycle Orcas Island Loop
Day 1 - Cycle San Juan Island's Interior
Welcome to Friday Harbor We will meet you at our shop in Friday Harbor located at 40 Spring Street, just steps from the ferry terminal. Here you will meet the group, store your luggage for the day in the van and get transported to the edge of town to start the first leg of your trip. Your guides will help you get acquainted with our equipment and get you geared up. Cycle to and Explore False Bay The first part of the route brings you through San Juan Valley with sweeping valley views of False Bay and out to the iconic Olympic Mountains. Distance: 4.3 miles. Stop here for a mid-morning snack.

If your bicycle needs any fine tuning your guide will be happy to make adjustments at this time. False Bay turns into a massive exposed intertidal zone at low tide, perfect for exploring the tide pools or digging your toes into the mud. This quiet country road has idyllic vistas of the Haro Straight and working farmland. Cycle to and Explore Cattle Point From False Bay we will cycle out Cattle Point Road towards Cattle Point. This route takes us through American Camp which is a National Historic Park, in memory of the historic Pig War. Distance: 7.5 miles.

Here at Cattle Point you can hike or bike along cliffs through fields looking for fox, rabbits, and bald eagles or trek down to one of the little coves found along the way. Lunch will be served at a small picnic area overlooking the waters of Cattle Pass. Cycle Pear Point to Friday harbor Cycle back along Cattle Point Road, this time with views of Vancouver Island to the northwest. For additional distance and more stunning views cycle around Pear Point, past Jacksons Beach and views to the east with Mount Baker in the distance. Distance: 13.7 miles
Arrive at Lakedale Campground
Tonight we will camp at Lakedale. Walk among the apple orchards or go for a dip in the lake while your guides prepare an impressive dinner. Turn in your bike for the day, indulge in a happy hour beverage and reflect on your first day's adventure. Lakedale is a beautiful campground in the middle of 3 finger lakes. While Lakedale sports numerous activities for both kids and adults; you will have no trouble finding a quiet spot to escape into a good book. Enjoy a delicious lakeside dinner All meals are prepared fresh for you by your guides. We support our local community and source many of our ingredients from farmers and providers right here in the San Juan Islands. Our meals are eco friendly, sustainable, and GMO/pesticide free; a way of life for many islanders. Please inform us of your dietary preferences so we can prepare your custom meals. We can accommodate all eating preferences and allergies.
Day 2 - Cycle San Juan Island
Cycle San Juan Valley After breakfast cycle along country roads through San Juan Valley with sweeping views of False Bay. Your first stop is at the Pelindaba Lavender Farm. Distance: 6.4m/10.3km - 36min Explore Pelindaba Lavender Farm Enjoy the sights and scents as you stroll through acres of living lavender at this organic lavender farm. At the visitors center you'll learn how lavender is cultivated, harvested, and its essential oils are processed. We recommend you try some of the lavender lemonade and lavender cookies in the gift shop! TerraTrek makes complementary drinks, trail mix, fresh fruit, energy bars, and more available at all times during your tour. Cycle West Side Road to Lime Kiln Lighthouse Onward to San Juan Island's spectacular west side where you can enjoy expansive views of the Olympic Peninsula and Victoria B.C. Take your time, this section of road provides some of the best views to the west looking out over Haro Strait. In late season there are blackberries to snack on along the way or just take a break and enjoy the scenery. Distance: 3.7m/6km - 22min Explore Lime Kiln State Park Enjoy a seaside picnic lunch at the Lime Kiln Lighthouse State Park. If you're lucky, you might spot a whale or a seal during lunch at Whale Watch Park! This historic lighthouse was the last major lighthouse to be electrified in Washington and the building is currently used as a whale research facility. Cycle to and Experience Roche Harbor Marina and Resort After lunch you will continue north toward Roche Harbor enjoying the sights along the way. If you are interested in breaking up this route you can stop at the alpaca farm to see these South American natives and check out the wool gift shop. You will also pass through the historic British Camp where you can hike up Mount Young or stroll down to the protected waters of Garrison Bay. The summit of Mount Young offers impressive views of the Canadian Gulf Islands and northern San Juan Islands. Distance: 10.1m/16.2km - 1 h 28 min

Stop at Roche Harbor for an afternoon coffee or ice cream and walk the docks of its beautiful marina. Roche Harbor is a quaint village with artist kiosks to check out, English gardens to explore, a sculpture park to enjoy and a very unique mausoleum for the adventurous. White Point Loop Before heading back toward town explore the scenic roads of White Point. This route will take you past the Westcott Bay Cider and Spy Hop Distillery- have a taste of their local juniper gin or local apple ciders. This route also offers a nice ride on a narrow country road along the shores of Westcott Bay with limited traffic. Distance: 2.4 miles Cycle to and Explore San Juan Vineyards The route from Roche Harbor to San Juan Vineyards takes you southeast towards Friday Harbor. Along the way you will pass Westcott Bay, Lakedale Resort, and Sportsman's Lake. Distance: 6.4m/10.3km - 39 min

Enjoy a break from the bike and try our local grapes. The vineyard has a number of award winning wines available for tasting. If wine isn't your thing, walk across the street and say hi to "Mona", San Juan Island's only camel. From here we shuttle to Lakedale Campground to relax for the rest of the evening. Return to Lakedale Campground and Enjoy a delicious lakeside dinner
Day 3
Go Sea Kayaking or Whale Watching Today you can choose a Whale Watch and Wildlife Cruise or a Guided Sea Kayaking Trip. Your guide will provide you with all the kayaking equipment and instruct you on how to safely sea kayak in our calm local waters. On both tours you have the opportunity to see orca whales, bald eagles, porpoise, seals, minke whales, seabirds and other marine life. The choice is yours! Whichever option you choose you will get to experience the islands from a new vista. Spending time offshore is an important part of understanding the island community and its dynamic ecosystem. We will serve you a delicious seaside lunch along the way. Enjoy the views, salty air and the naturalist knowledge your guides will share with you. Experience Wildlife Our kayak route offers one of the best opportunities in the world to see wild orca whales from a kayak because we paddle in a federally designated whale habitat. Since we can't guarantee that they will show up on every kayak trip, we offer the option to increase the odds to over 90% by spending the afternoon aboard a whale watch cruise aboard the Odyssey. The resident J, K, and L pods of orcas have recently been put on the endangered species list so our goal is to respect them, abide by the guidelines and not to paddle aggressively into their path. We will give you a lesson at the beginning of the tour for appropriate kayaking behavior near wildlife.
Day 4 - Cycle Orcas Island Loop
After breakfast we will pack up and bring you to the ferry. The ride to Orcas is about 40 minutes up San Juan Channel and the beautiful Wasp Islands. Cycle to and Explore Orcas Pottery Cycle along the wildflower lined country roads of Orcas Island headed towards West Sound. As you look for wildlife along the way, you might also see young sailors learning to sail in the harbor. The road eventually leads inland taking us along the edge of Crow Valley which sits at the base of Turtleback Mountain. Distance: 8.2m/13.1km

Turn into Orcas Island Pottery where you'll find beautiful and unique pottery. Here you can enjoy art and a spectacular view of the northwest! Enchanted forests, breath taking views, quiet valleys, old growth trees and inspiring people. Take your time while exploring Orcas to experience its beautiful cultural and landscape. Cycle to Eastsound Take the Enchanted Forest Road up and over into town for a delicious picnic lunch overlooking the Sound. Distance: 3.4m/5.5km Have lunch and explore Eastsound village While your guides prepare a fresh and local lunch, you're invited to relax and enjoy the view, or if the tide allows, take a beach walk out to Skull Island to look for intertidal zone creatures. After lunch there will be a little extra time to explore the shops and sites of Eastsound. Find your perfect souvenir, browse the book shop, or enjoy an afternoon coffee. Eastsound is the picture perfect island village. Cycle to and Expolore Moran State Park From Eastsound your route takes you down the other side of the horseshoe shaped island, up to Moran State Park. Distance: 5.6m/9.1km

Moran State Park is Washington's first state park and offers a variety of activities. Swim in crisp mountain lakes, cycle the 5.5 mile climb to the summit of Mount Constitution, walk to beautiful Cascade Falls or call it a day and climb in the van for a ride to the top. At 2,407ft the summit of of Mount Constitution is the highest point in the San Juan Islands and offers spectacular views of Mount Baker to the east and the San Juan Archipelago in all directions.
What's Included:

We provide tents, sleeping pads, camp pillows, support van/shuttle, biking gear, a kayak tour or whale watch cruise, campsite breakfasts, picnic lunches, campsite dinners, snacks, and a happy hour beverage of your choice after the day's activity. You will need to bring personal clothing, toiletries, sleeping bag(availble for rent) and a sense of adventure.
BIKING "CAMP TO CAMP"
through the
SAN JUAN ISLANDS
4-DAY/3-NIGHT TOUR - MONDAY START
$1099 ‐ All Inclusive
What's Included:
Campsites, Tents, Sleeping Pads, Camp Pillows
Biking Gear & Kayaking Gear
Campsite Breakfasts, Picnic Lunches and Campsite Dinners
Every Monday-Thursday from April-October
Custom tour dates available upon request.
View Available Dates
Book Now
Have Questions?
Please note that the vast majority of our trips follow the routes and itineraries listed on our website, but changes may occur for reasons of safety, weather, logistics and guide or administrative judgement.
RELAXED CANCELLATION AND REFUND POLICY
61 or more days before the trip date, full refund of all payments less a $30 per person cancellation fee. 31-60 days before the trip date, guests will be charged 50% of the entire trip cost. 0-30 days before the trip date, guests will be charged 100% of the entire trip cost and no refunds will be made. All cancellations must be in writing and charged amount is determined upon the date of receipt.
We ask for a 50% deposit when you make your reservation for a trip that is more than 60 days in the future. If the trip is 60 days or less in the future, then full payment upon making your reservation is required.