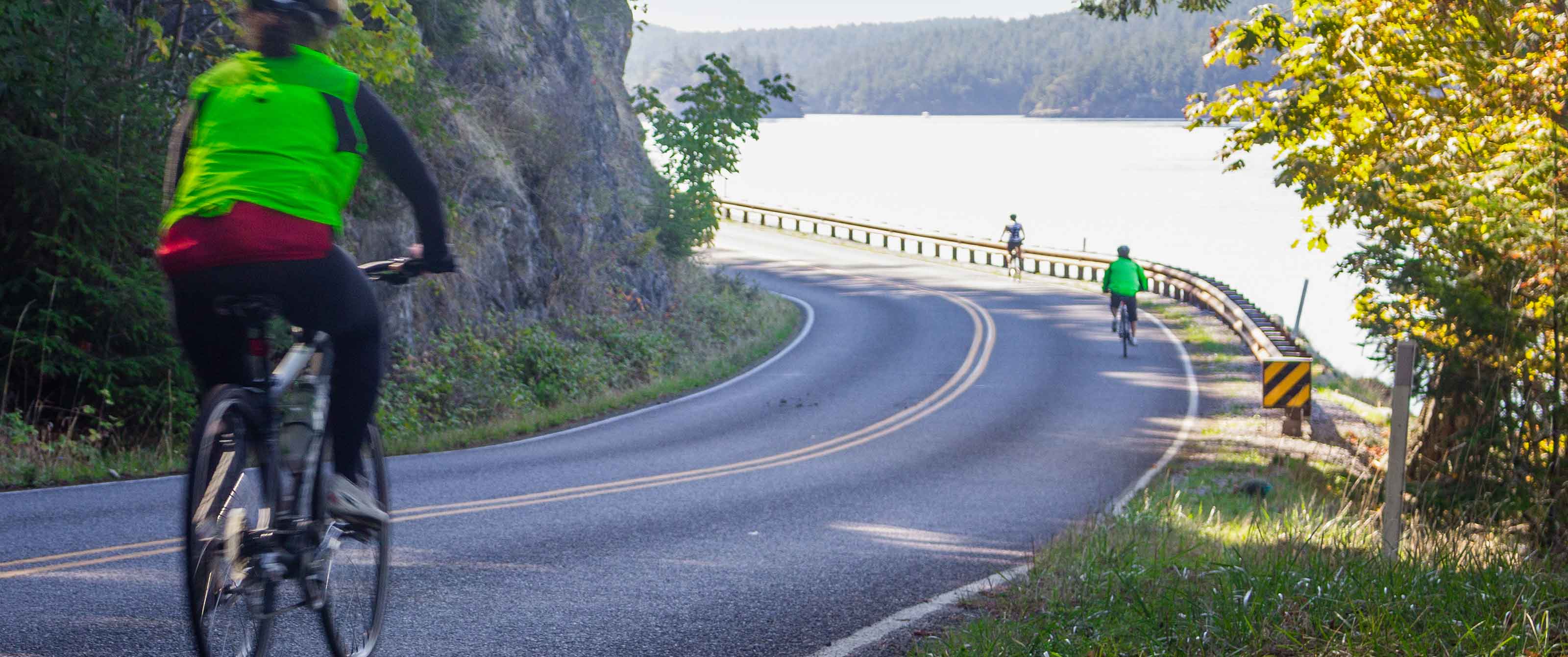 INN TO INN TOUR HIGHLIGHTS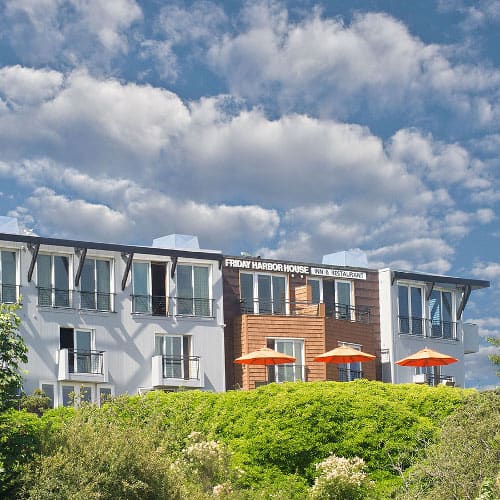 Award Winning Accommodations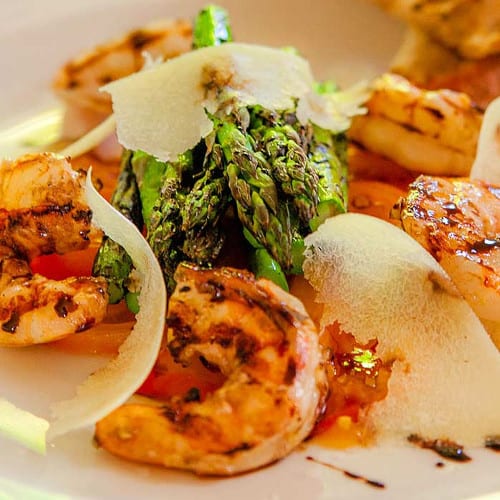 Fantastic Meals (Breakfasts, Lunches, Dinners & Snacks)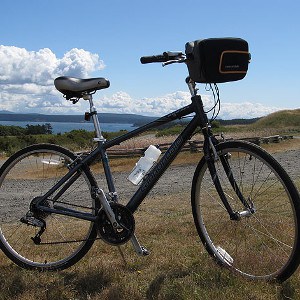 Comfortable Hybrid Cannondale Touring Bicycles (road bikes & electric bikes also available)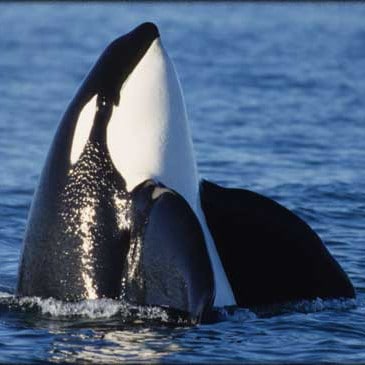 Amazing Views and Wildlife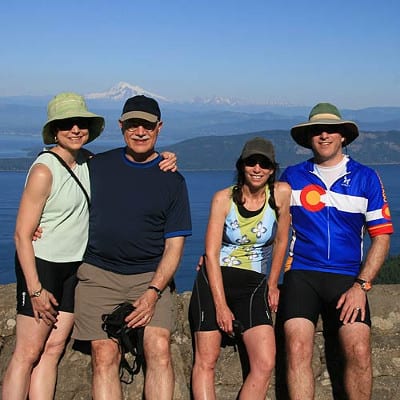 Small Group Sizes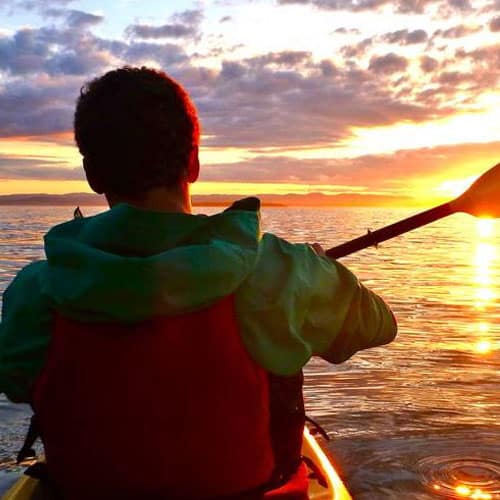 Spend a Day Kayaking or Take a Whale Watching Wildlife Cruise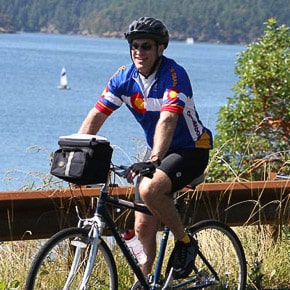 Beautiful Country Cycling Routes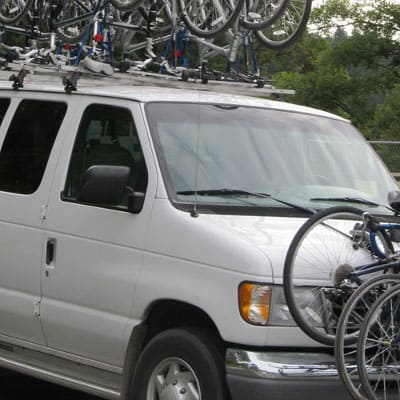 Fully Van Supported
6 Day Inn to Inn Tour - $ 2,580 per person

Activity
Mileage
Accommodations
Day 1
Cycle San Juan Island's Valleys, Wine Taste at San Juan Island Vineyards and Cycle Beautiful Pear Point
18 miles
Friday Harbor House, Tucker House or Island Inn
Day 2
Cycle San Juan Island South End
25.5 miles
Friday Harbor House, Tucker House or Island Inn
Day 3
Cycle San Juan Island Loop
29.5 miles
Friday Harbor House, Tucker House or Island Inn
Day 4
Kayak San Juan Island or Whale Watch Cruise from San Juan Island
9 miles
Friday Harbor House, Tucker House or Island Inn (Dinner not provided)
Day 5
Cycle Orcas Island
22.7 miles
Outlook Inn or Turtle Back Farm Inn
Day 6
Cycle Lopez Island
30.1 miles
Would you like two beds? Please read this...
Day 1 - Cycle San Juan Island's Valleys, Wine Taste at San Juan Island Vineyards and Cycle Beautiful Pear Point
We will meet you at our shop in Friday Harbor located at 40 Spring Street, just steps from the ferry terminal and shuttle the group to our starting point, just outside of downtown. After we gear up and have a safety lesson, we head out along Roche Harbor Road. We quickly move into a pastoral landscape that leads us to the San Juan Island Vineyard. We stop here for a tasting of their local wines. The road will wind us past Egg Lake to Egg Lake Road where we cycle past a local swimming area. Bring your swimming suit and jump in for an optional swim if the weather is right.

This afternoon we will cycle San Juan Valley Road; a scenic easy route showcasing family farms that have been around for several generations. We will take a break at Jackson's Beach where you can go for a walk along the beach looking for treasures brought in by the tide, or go for a swim while your guide is preparing a delicious lunch. Before we head to the inn, we will cycle the Turn Point Loop, giving us some glimpses of the sea along the way. We then head to Friday Harbor where you will have some time to check out downtown before dinner.
San Juan Island Food and Accommodations

Accommodations
Rest in well-appointed accommodations. As top-rated inns best noted for comfort, views, and breakfast, you will find it easy to relax and unwind. Most rooms have jetted baths to enjoy after a day of adventure. Your luggage will be waiting for you in your room when you arrive. Listed are some of our favorites!

San Juan Island – Friday Harbor House or Tucker House

Breakfast
A delicious and full gourmet breakfast is served each morning at your inn; prepared by their creative chef. These breakfasts are well worth waking up for!

Lunch
Everyday your guides will prepare a delicious picnic lunch using local organic ingredients. Lunch will be served in a scenic location such as a beach, forest, or hillside with a view.

Dinner Restaurants
We choose only our favorite local spots! Our guests enjoy top rated restaurants that are best known for their local cuisine, flavorful dishes, and overall ambience. Listed below are some of our favorites!

San Juan Island – Friday Harbor House Restaurant, Coho Restaurant, Backdoor Kitchen, McMillan's Dining Room, or Vinny's Ristorante


Would you like two beds?
Day 2 - Cycle San Juan Island's South End
Today's route begins cycling San Juan Valley past False Bay with the Olympic Mountains in the background. False Bay turns into a massive exposed intertidal zone at low tide, perfect for exploring the tide pools or digging your toes into the mud. This quiet country road has idyllic vistas of the Haro Strait and working farmland.

From False Bay, we will cycle towards American Camp which is a National Historic Park. Here at you can hike or bike through fields looking for fox, rabbits, and bald eagles or trek down to one of the small coves found along the way. Your guide will serve you a delicious and nutritious lunch at a small picnic area overlooking the waters of Cattle Pass. Cycle back along Cattle Point Road to Friday Harbor. After you turn your bike in for the day, indulge in a happy hour beverage and enjoy the views over the Sound.
Day 3 - Cycle the San Juan Island Loop
Today we will cycle along quiet country roads with our first stop being at an organic Lavender Farm. Here you can explore the beautiful purple hillside and take photos. Don't forget to taste the variety of foods created with lavender before you head out.

We cycle on to Lime Kiln State Park where you can hike along the rocky paths to a lighthouse or check out tide pools while your guide prepares lunch. Afterwards, we cycle north visiting the largest Alpaca Farm on San Juan Island. We then cycle on to Roche Harbor for an afternoon coffee or ice cream and to walk the docks of its beautiful marina. Roche Harbor is a quaint village with artist kiosks to check out, English gardens to explore, a sculpture park to walk through, and a very unique mausoleum for the adventurous.

Before heading back toward town, explore the scenic roads of White Point. This route will take you past Westcott Bay along a narrow country road to the shores of Westcott Bay Shellfish Co where you can sample island oysters and have a cold beverage. We will also stop at a Gin Distillery where you can enjoy a tasting. From here you may choose to get a ride in our shuttle or keep cycling back to Friday Harbor.
Day 4 - Kayak or Whale Watch Cruise
This morning we will either shuttle you to the beautiful Westside of San Juan Island for a day of sea kayaking or you may choose to go on a whale watch wildlife cruise aboard the Odyssey.

The day of kayaking includes a kayak safety lesson before you begin paddling along the evergreen cloaked coastline. As we journey down the coast, we'll stop for lunch along a beach where you can search for creatures in the tide pools, look for sea glass among the pebbles or simply soak in the scenery. After lunch we will head back out on the water in search of orcas and eagles.

If you choose the whale watch cruise, you will spend the afternoon cruising the San Juan Islands. Sit back and relax in comfort as the personable onboard naturalists share their depth of knowledge on the local whales and wildlife. A picnic lunch prepared by your guide will be served while you are on the boat. Afterwards, your guide will bring you back to Friday Harbor. Tonight, you will have time to explore town on your own.
* Please Note: Dinner on this night of this trip is not included in the price of the tour.
Day 5 - Cycle Orcas Island
Today we will hop onto the ferry to Orcas Island. The ferry ride lasts about 40 minutes and offers beautiful views of San Juan Channel and the Wasp Islands. Once on Orcas Island we will cycle the wildflower lined country roads to the edge of Crow Valley which sits at the base of Turtleback Mountain. Along the way we'll check out Orcas Island Pottery where you can find beautiful and unique pottery handcrafted by local artists.

Your guide will prepare a picnic lunch while you explore Eastsound (a small village on Orcas Island). From here we cycle into an old growth forest to Moran State Park. Swim in crisp mountain lakes, cycle the 5.5 mile climb to the summit of Mount Constitution, walk to beautiful Cascade Falls or call it a day and climb in the van for a ride to the top. This area offers spectacular views of Mount Baker to the east and the San Juan Archipelago in all directions.
Orcas Island Meals and Accommodations

Accommodations
Orcas Island – Turtle Back Farm Inn or Outlook Inn

Breakfast
A creative and delicious full breakfast is served each morning at your inn, prepared by their chef

Lunch
Your guides will prepare a picnic lunch in a scenic place along your route each day using fresh local ingredients

Dinner Restaurants
Orcas Island – The Inn at Ship Bay, The Mansion Restaurant, or New Leaf Cafe

We will retreat to well appointed accommodations. As top rated inns; best noted for comfort, views, and breakfast, you find it easy to rejuvenate. Most rooms have jetted baths to relax and unwind in. Your luggage will be waiting for you in your room when you arrive.

Dinner will be hosted at the islands best rated restaurants. We will take you to our favorite local spots that are best known for their local cuisine, flavorful dishes, and overall ambience.
Would you like two beds?
Day 6 - Cycle Lopez Island
This morning we take the ferry to Lopez Island. We start cycling at the ferry landing, enjoying views of the majestic Olympic Mountains. You can stop in the Lopez Village for a morning coffee or a freshly baked pastry from the amazing Holly B's Bakery. Cycle along the shore of Fisherman Bay and head out to Otis Perkins County Park to enjoy the scenery. Continue the quiet country roads toward Shark Reef County Park for a scenic walk and picnic lunch. The walking trail brings you through a beautiful forest and pops you out on the rocky southwest shore looking over turbulent Cattle Pass toward San Juan Island and the Olympic Mountains. You may spot several harbor seals on Shark Reef.

We will stop along the route at Agate beach to enjoy the views of the Iceberg Islands. Explore this beautiful beach loaded with perfect skipping rocks. If time allows, make the walk to Iceberg Point, it is one of the most beautiful places on Lopez Island. To finish the bike route, we head north, through the center of Lopez Island to Spencer Spit. Here you will find a state park with a sandy beach, interpretive displays, and a marsh lagoon to check out. Cycle past the quiet northern bays and a witness plentiful waterfowl. The last stretch of your trip brings you back to the Lopez Island ferry landing to say goodbyes until your next adventure begins.
Fresh
---
Delicious breakfasts served at your inn. Picnic lunches are prepared daily by your guides. Dinners are hosted at one of the island's top resturaunts.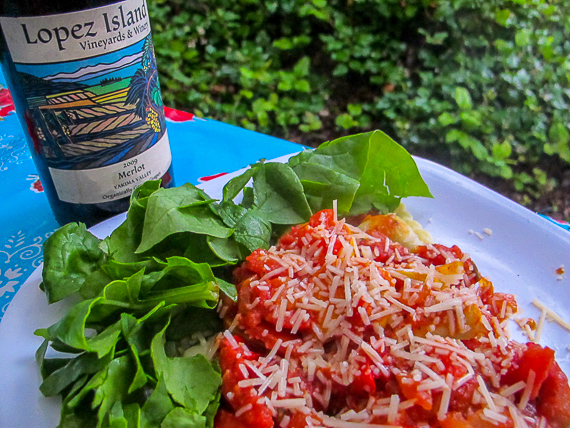 Local
---
We support our local community and source many of our ingredients from farmers and providers right here in the San Juan Islands.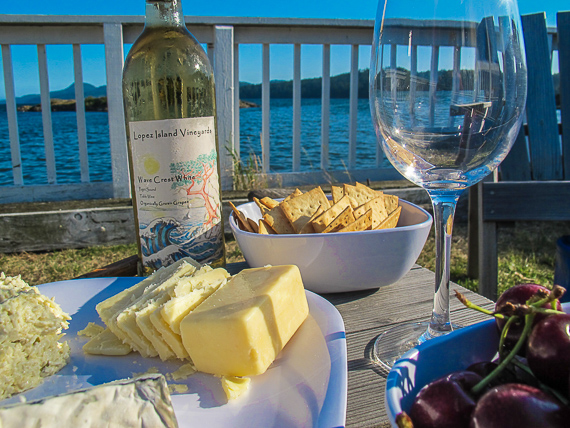 Organic
---
Eco friendly, sustainable, and GMO/pesticide free. A way of life for many islanders.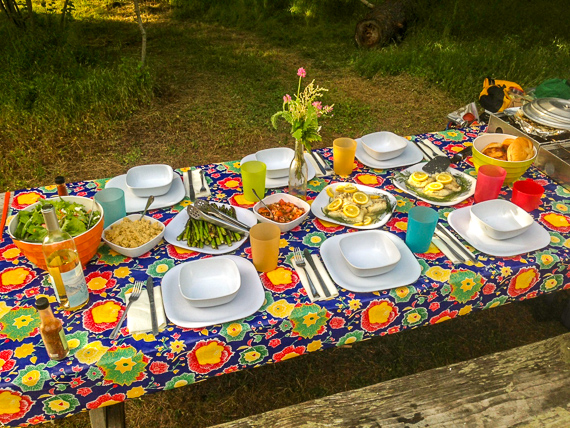 Personalized
---
Please inform us of your dietary preferences so we can prepare your custom meals. We can accommodate all eating preferences and allergies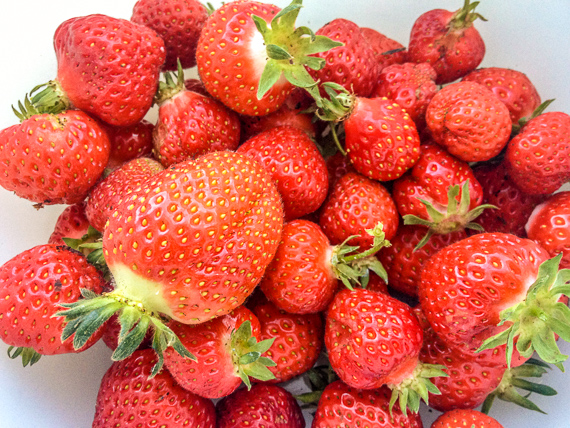 What's Included:

We provide all accommodations, transportation, biking gear, kayaking gear, breakfast, picnic lunches, dinners, and a happy hour beverage of your choice after the day's activity**. You will need to bring personal clothing and toiletries, a willingness to learn and a sense of adventure. Our 4, 5, and 6 day tours allow one night for you to explore town on your own. This evening's dinner is not included in the cost of the trip. **We do not cover the cost of alcoholic beverages with dinner.
BIKING "INN TO INN"
through the
SAN JUAN ISLANDS
6-DAY/5-NIGHT TOUR - SUNDAY START
$2580
Every Sunday-Friday from April-October
Custom tour dates available upon request.
View Available Dates
Book Now
Have Questions?
Please note that the vast majority of our trips follow the routes and itineraries listed on our website, but changes may occur for reasons of safety, weather, logistics and guide or administrative judgement.
RELAXED CANCELLATION AND REFUND POLICY
61 or more days before the trip date, full refund of all payments less a $30 per person cancellation fee. 31-60 days before the trip date, guests will be charged 50% of the entire trip cost. 0-30 days before the trip date, guests will be charged 100% of the entire trip cost and no refunds will be made. All cancellations must be in writing and charged amount is determined upon the date of receipt.
We ask for a 50% deposit when you make your reservation for a trip that is more than 60 days in the future. If the trip is 60 days or less in the future, then full payment upon making your reservation is required.